Launching a new business is no small feat, and in 2020, the idea of building a new Ammolite company from scratch felt more like a dream.
Fast forward to June 14, 2021. After endless business meetings, late night brainstorms and sleepless nights creating new concepts to enter the playing field, Iniskim was born as an incorporated company. It's a similar story for any startup; a rite of passage.
To build a viable Ammolite business, we needed to rely on our village or tribe – people who have supported our team in various ways over the years and could see what we were trying to achieve.
One of our biggest supporters has been award-winning and widely celebrated Canadian jewellery designer Llyn L. Stelau. President and co-founder Amarjeet Grewal has worked with Llyn over 20 years, and she trusts his eye for creativity and design perspective.
On July 29, 2021, our Ammolite business (and dream) came to fruition as we officially became Iniskim International Inc. Part of that transition included Llyn's concept and design for the Iniskim logo complemented with a designed pendant.
Two years later, we are putting a stake in the Ammolite and gemstone industry not only with a modern vision for Ammolite, but in our core communities. Within a one year time frame, Iniskim has become an ICA (International Colored Gemstone Association) accredited and ethical member, an AGTA (American Gem Trade Association) member, and AGS (American Gem Society) member.
And to celebrate this momentous anniversary, it felt appropriate to feature the man behind the logo. As a fellow Calgarian, a leader in jewellery design, and most importantly a dear friend, we're excited to hear first-hand from Llyn. L. Strelau.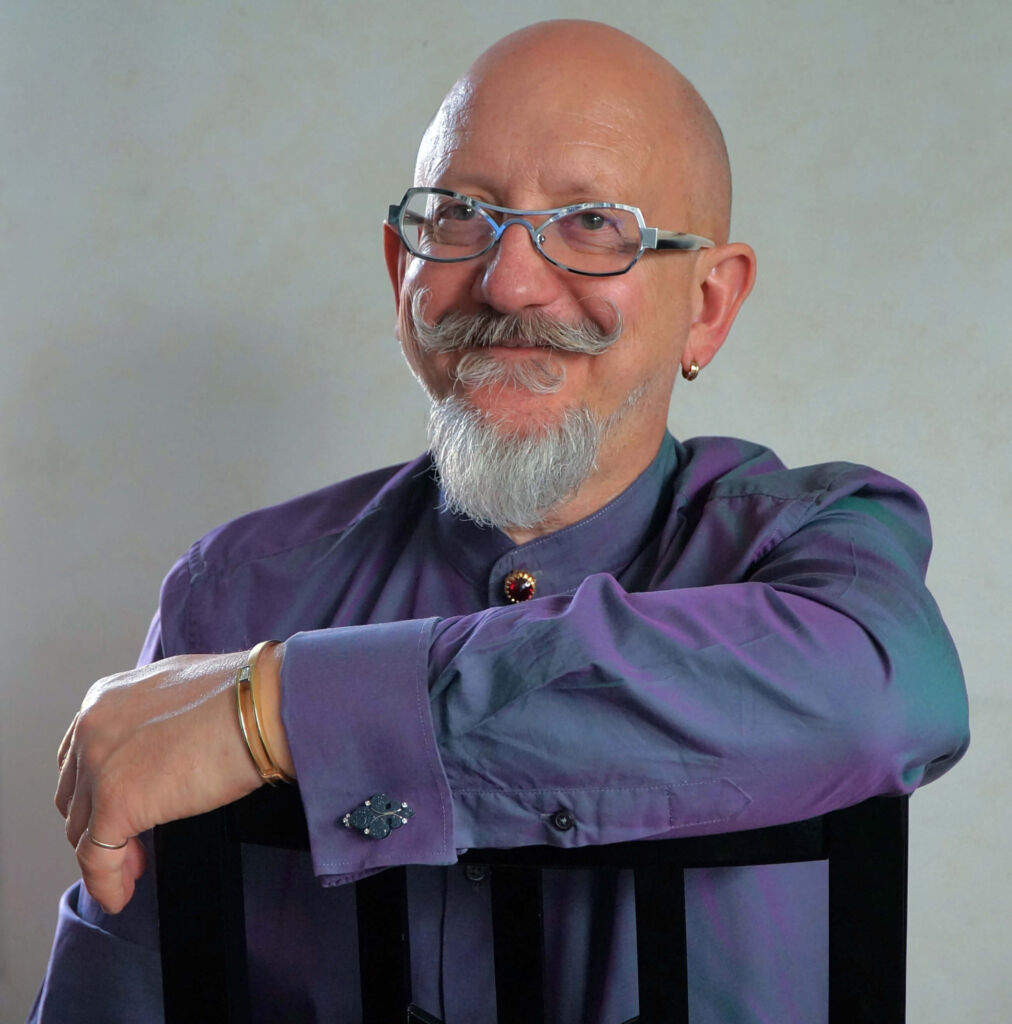 The Genesis of a Renowned Calgary-Based Jeweler
Raised on a farm in Saskatchewan, I was exposed to gemstones early on and my love for it ran deep. It's not until my adolescence that I realized gemstones could be made into jewellery.
An escapade to Europe introduced me to the fine world of jewellery design with a goldsmith who inspired me to create my first bracelet.
Moving to Calgary, I studied in Electronics but was fascinated by learning more about jewellery making and read books at the Southern Alberta Institute of Technology (SAIT) library connected to the former Alberta College Art and Design.
I honed my skill and as a hobby, I created jewellery using my kitchen table as a "bench". I slowly made the transition to a career where I found my vocation as I started selling pieces locally to friends and peers. The dedication, and working for a local jewellery manufacturer, helped me create this beautiful journey for myself and paved the way for my future success.
The Creative Process of Designing with Gemstones

Gemstones have their own characteristics and personality, so finding inspiration in each are truly the core of my designs. The journey to an end design isn't simple. But my motto is always:
"The jewellery I design is meant to be worn. It must be comfortable, functional and always …beautiful."
Wearability, comfortability, harmony, and colour – all necessary details that I keep top of mind for every piece created. Beyond this, I strive to design FOR my clients and their vision. It's a true collaboration where we discuss what the custom design includes. It's a passion to bring these designs to fruition.
Favourite Award-winning Designs
Under the Rainbow – AGTA Spectrum Award (1994)
The Other Side of the Moon (2014)
Bacchanalia (2017)
Dreamweaver – AGTA Spectrum Award (2022)
Under the Rainbow remains a favorite because it was my first American Gem Trade Spectrum Award, and perhaps was the inspiration for the Iniskim Logo! It was a full spectrum old mine Ammolite accented with six round faceted rainbow hued gemstones and tiny diamonds in pave.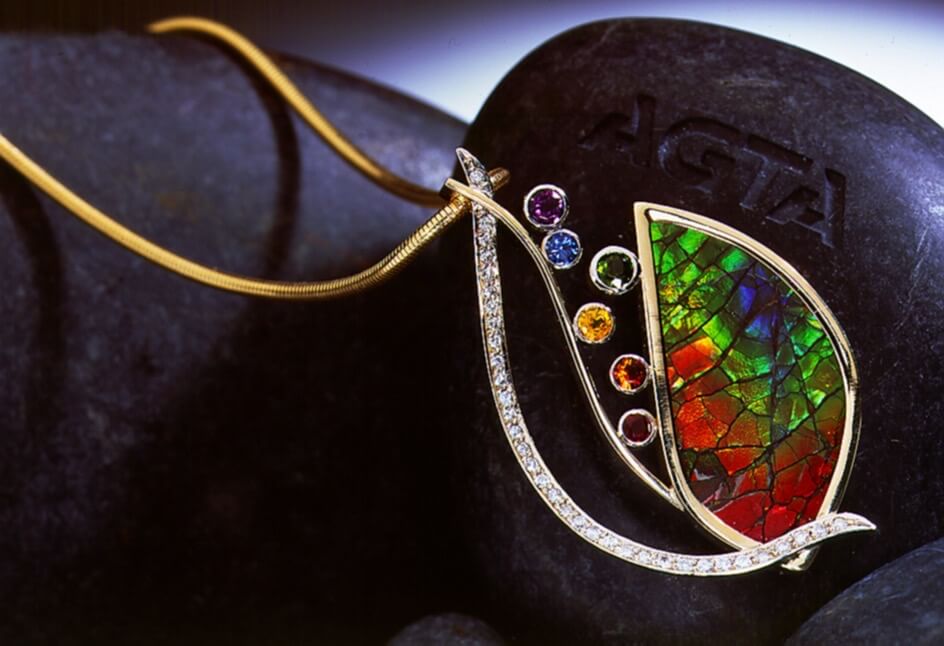 Appreciation for Ammolite, Canada's Gemstone
I've lived and worked in Alberta for over 40 years so I've seen the rise of this unique gemstone's profile since it became more available as jewellery.
Early in my career, I did some wholesale design and repair work for a retail jeweller who also had a shop in Banff, Canada, where much of Ammolite was sold to tourists. The retailer sold a lot of Ammolite and I designed a few simple pieces with the gemstone then.
I find Ammolite fascinating for a number of reasons, especially because no two stones are similar. The range of colours and vibrancy is so appealing, especially with the 'stained-glass' patterns that feature dark webs. Though violet and blue are considered the most sought-after and hard to find, I love featuring the spectrum of colours. Catching the rainbow of Ammolite feels more brilliant.
Tips and Tricks Working with Ammolite
First, it's a preference but I work with natural Ammolite gemstones rather than doublets or triplets as much as I can depending on the design. And I find one reason that others might shy away from Alberta's gemstone is because of how delicate a natural Ammolite can be, with a hardness level of 3.5-4.5 on the Moh's scale. But there are ways to stabilize it and increase durability.
Full bezels are the best way to accomplish this. I quickly discovered the best method for setting Ammolite is to set the gemstone in a bezel from the back. The bezel is carefully fitted to each individual stone and a solid metal back plate cut to fit very precisely into the bezel. With a slight bevel on both the back of the bezel and the edge of the backing plate, it's possible to set the pieces relatively quickly and very securely without any risk of breaking the Ammolite.
While this adds a bit of gold weight to the final piece the extra cost is well worth it for the finished appearance.
A new Ammolite Era with Iniskim
I've known and worked with Amarjeet Grewal for well over 20 years, and I trust her experience and knowledge about Ammolite through and through. She knows the quality and market value for loose Ammolite gemstones, and these are all things that are important to consider for design decisions.
I trust her knowing that every gemstone has been carefully selected by her. We've designed some beautiful, signature pieces over the years.
When Amarjeet approached me in 2021 to design the logo for Iniskim, I was immediately on board. I envisioned the shape of an Ammonite and the spiral that represents the true origin of the gemstone. The colors of Ammolite needed to shine through, but it needed to be practical.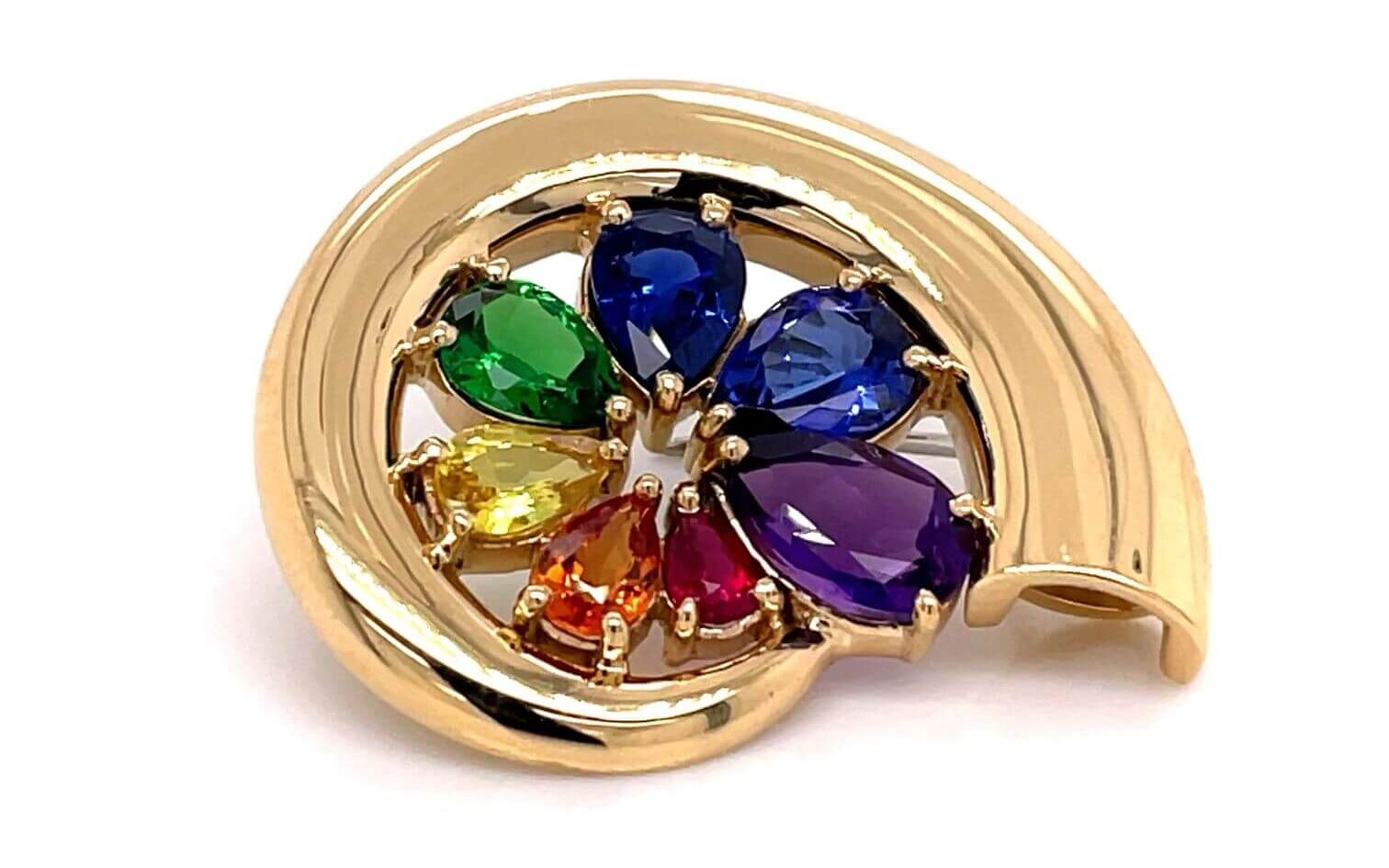 Numerous sketches later, we landed on each colour of the rainbow and for the logo pendant to feature seven graduated size pear shape gemstones. I worked with one of Canada's top coloured gemstone dealers and we landed on using ruby, orange sapphire, yellow sapphire, tsavorite garnet, blue sapphire, tanzanite and amethyst to show the array of colours.
Due to the spiral, the proportions of each gem were tight, and the gemstones needed to fit the precise dimensions needed. But it is now a work of art crafted in 18K yellow gold and a talisman for this emerging Ammolite story.
"What I love about our pendant is that we love to showcase other gemstones that can complement Ammolite. It's a fun, captivating, playful gemstone, so why not bring more coloured gemstones into the mix? At Iniskim, we value community, and this logo is also a representation of that. It's time to see Ammolite jewellery in a new light!" – Amarjeet Grewal.
The Future of Ammolite
The recognition for this semi-precious gemstone is long overdue; it has missed out on since it was first discovered. For a gem that has a single source in the world, Ammolite deserves to be valued as the completely unique gemstone that it is. For too long it has been treated as a tourist and mass produced gem that does not adequately reflect the true rarity and beauty that it has.
Ammolite is not a subtle gemstone and it will attract only those who can appreciate it and wear it proudly. There's a power to the gemstone that only courageous people can wear.
I can only hope that this Canadian treasure will continue to increase in value and gain popularity as it matches with its rarity.
---
At Iniskim, we value Llyn's creativity and partnership over the years but more importantly, his loyalty and friendship is paramount. His brilliant work is recognized internationally, and his decorated career is inspiring. Llyn is a celebrated member of our Iniskim community.
Interested in learning more about Ammolite gemstones? Visit our March feature on the 5 Interesting Facts About Ammolite Gemstone.