Written by: Stephanie Jo
To sit down with Iniskim's President and co-founder Amarjeet Grewal and interview her is an exciting opportunity. Why, you may ask? Because I knew it was going to be a profound and relatable conversation. As a mother and an entrepreneur who immigrated to Canada, Amarjeet embodies the true meaning of resilience and determination.
There's a strong yet quiet energy that surrounds Amarjeet, and you can't help but feel inspired by her enthusiasm and confidence. She speaks passionately about her family and raising her three girls, and that same spirit is shown when she shares her thoughts on building her business and brand. She balances the demands of motherhood and entrepreneurship with grace and a steadfast understanding of who she is and what she strives for.
Her passion and pursuit for her business are evident as we chat about the opportunities and successes that come along with being an entrepreneur. And as I listen to her speak, I can feel her love and pride for her family shine through as she shares stories about her children and supporting them to be independent and courageous women. It is an honour to interview this remarkable mother and entrepreneur, and I'm thrilled to share her moving story.
---
How has being a mother influenced your entrepreneurial journey?
Becoming an entrepreneur wasn't the goal, it naturally happened. And I've always been an entrepreneur at heart, even before becoming a mother, but timing and opportunity is everything. I've always been self-motivated and driven, and in the corporate world, I've stayed true to who I am. I've advocated for myself to have a voice in the room, to be part of the decision-making, and never to shy away from sharing my opinion tactfully.
My home life influences my professional life because there are so many skills that can be applied. As a mom, I felt like I was running a business, from teaching values, being a leader, running a household schedule; the list of responsibilities and demands is endless. And you need to adapt, be creative and lead in any given moment or situation – truly there's very little difference from being an entrepreneur.
Motherhood also helps you develop greater empathy and emotional intelligence, which is important in leadership. As parents, we need to learn to be more patient, compassionate and understanding, which is a valuable skill in business. It teaches us to identify and focus on what truly matters.
They say "your business is your baby" – in what ways are motherhood and owning a business alike?
Nurturing is key. When a baby is born, they are 100% dependent on you, and even as they grow older and become more mature, that care and encouragement continues. Though my daughters are older now and entering adulthood, I continue to nurture, support and guide them so they can discover themselves and who they want to be.
Just like having a baby, we want our business to grow and flourish by nurturing it and having good values and principles. My belief is that with a strong foundation built with these pillars of value, it leads to a healthy and thriving business. At the core of Iniskim's business ethics, we strive to operate authentically and with integrity.
These are the values motherhood carries into my business. Both require a significant level of dedication, commitment and emotional investment. But both are very different experiences, and each comes with its own unique challenges and rewards.
How do you balance running a business with being a mother?
The best type of 'balance' in our life is up to us and looks different for each person. For me, fitness, being a Mom, and being an entrepreneur go hand in hand. I believe in work-life enrichment, but it doesn't come without trial and error. I'm dedicated to myself, family life and my professional career and it all requires me to be at my best.
This means that I can't compromise on the things that bring me joy, such as fitness. It plays a big role in my life and it's an act of self care and self love. I advocate for moms to take care of their mind, body, and soul because how can we be there for our families if we're not at our best.
This isn't a selfish act, and I feel that many moms can find a hard time to balance personal time away from the family. But a little patience and grace for ourselves, while taking it one day at a time can make all the difference.
Naturally, it comes with compromise – when one side of your life requires more attention, another one tips over. There were days that I was travelling for work but all I wanted was to be with my kids; I still experience this now. Most importantly, my children's milestones are a deal breaker for me. There are some things that are more important than business and this is it for me. Yes, it's hard at times but if it feels right and it doesn't disrupt the end goal for your business, you can still succeed in both.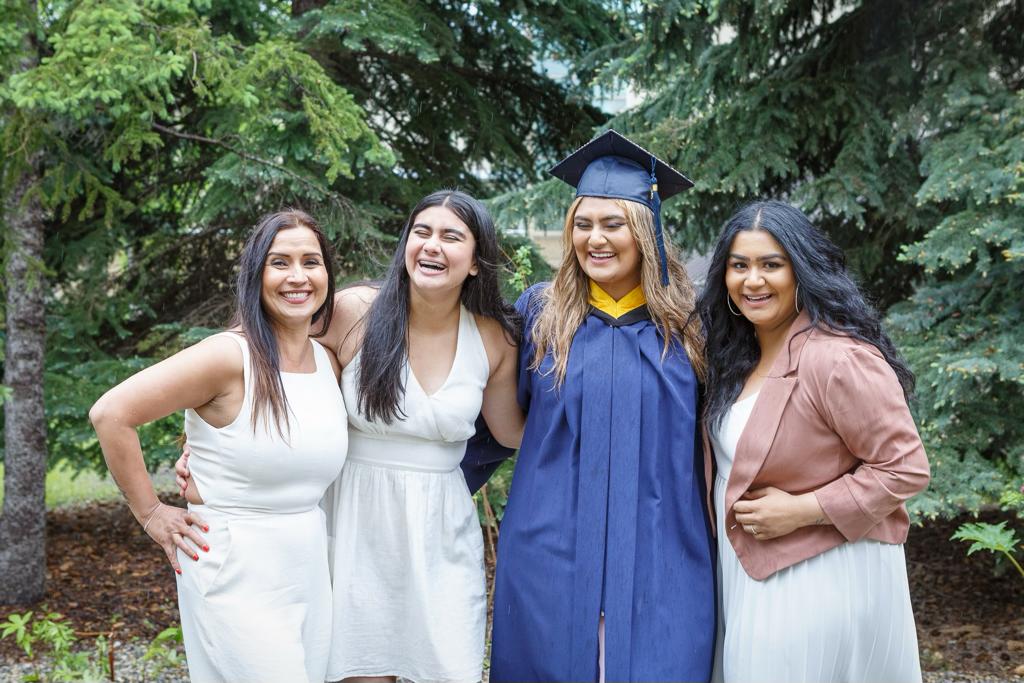 How do you make time?
My short answer is that I simply make time. By prioritizing what is most important, what I need, and what I want. Being motivated is one thing, but without discipline and consistency, it can be a struggle. Nobody is going to be there when I wake up to go to the gym or work late nights to grow the business – I have to show up for myself.
At the end of the day, it's my job to make myself happy. And I truly believe in putting the most positive energy out into the world, as best as I can. It not only changes how the day can unfold, but it could impact someone else positively.
What would you say to other entrepreneur mothers just going into business?
Starting a business as a mother can be challenging, but it can also be incredibly rewarding. So go for it and don't think twice. Some days might be more difficult than others, but we also need to be kinder to ourselves when we're striving to achieve something greater. This is what you believe in and it's not just for yourself, but for your family.
There are likely some sacrifices to be made, or fleeting moments of guilt; I feel like it comes with the territory when there is so much emphasis placed on us in how we parent. But there isn't a right way of navigating and juggling being an entrepreneur and a Mom. It's about making your dream a reality though and showing your children that you can be successful personally and professionally.
Building a strong foundation and having loved ones or your community that is willing to uplift and motivate you will help lead to that entrepreneurial success. It's not an easy journey that we can navigate alone so relying on a support system can make all the difference.
What's something you admire about other mother figures?
It's difficult to pinpoint only one thing. From the moms that I've had the privilege to know, their admirable qualities are extensive. Their tenacity, compassion, strength, resilience, and selflessness has no bounds. Beyond the tears and the hardest days, we somehow persevere. The pressure of being "great moms" can be weighed heavily, and that's where I hope more moms will give themselves a little more grace. We are resilient and strong; through the good days and the bad days, we can do it all. That's why I think it's important to recognize great mother figures and appreciate all that they do.
What's something that you've learned working in this industry that you want to instill in your children?
There are many lessons I've learned over the years, and the most important ones boil down to staying true to my values and to myself. As an immigrant who landed in Canada more than 30 years ago, I made a choice to be brave, bold, and never hide my personality and character. This rings true to the present day.
Likely similar to other parents, I've always instilled in my children the importance to communicate effectively, work collaboratively, and build strong relationships to set them up for success in any field. And as they've grown, and as I've grown professionally, I've taught my daughters never to waiver or compromise their voice – the importance of speaking up, to be courageous, stand by their beliefs and to take risks is one lesson I stress the most. From my experience, this is how to gain the respect that's deserved, without being undermined or questioned.
What I've also learned is that there is no shame in asking for a fair chance and giving credit where credit is due. Whether it's personal or for a colleague, this is part of having respect in the workplace and working in an environment that is free from negativity and glass ceilings. What I've told my daughters is to leave that table if you're not respected. If you don't have a chair at the table, bring your own chair or make your own table.
Last but not least, at the core of Iniskim and my own beliefs, practicing ethical behaviour and social responsibility cannot be stressed enough. I've mentioned having a solid business foundation before and I believe applying these core values is integral in how I operate personally and professionally to be successful. My girls also strongly believe in these values and are part of the generational shift to hold businesses more accountable.
What's been your proudest moment as both an entrepreneur and a mother?
As a mom, there's so much to be proud of on varying levels because of the small feats and the giant milestones for my children. They've grown so quickly and it's been amazing to see them grow as strong, fiercely independent and vivacious women. Beyond that, I've seen them flourish and thrive as mentors and leaders. The impact that they have made in their own way, by being courageous and speaking their mind are some of my proudest moments.
As each of my daughters have discovered their independence, I feel like it's been brought full circle with my own experiences and how my mother has instilled that value in me. She has always been a pillar of strength, teaching me the importance of being independent as a woman and encouraging it from every aspect of life.
As an entrepreneur, I'm thrilled to be a part of wonderful charities and causes that I deeply connect with such as Gems for Gems. Working with a brand that I'm supporting from the ground up means a lot because I get to see the incredible impact they have and how they can help change people's lives. I'm proud of the organization because I see the dedication, energy and hard work poured into it to make a difference in the community.
Lastly, how would you define success?
Success is subjective; my concept of success might be a little different from other entrepreneurs. How I measure it is defined by my goals and achievements, and what fulfills me at the end of the day. It's not dictated by material things or how successful I am financially. Truly, it's about taking care of my family and taking care of myself. Their success is my success, and vice versa.
I'm in competition with myself each day to do better, be better, and to have an impact. If I can say that I've made that effort and tried my best, then I've achieved something. My hope is that my daughters will recognize the journey I've taken to succeed on my own terms, and aspire to make their mark, serve as role models, and pursue their passions.
---
With over 30 years of specialized experience in the Ammolite and Ammonite industry, Amarjeet Grewal brings a wealth of knowledge and expertise to the table. Her background spans across various domains, including management, leadership, buying, selling, B2C and C2C sales, marketing, branding, and jewelry design.
Grewal's unwavering dedication to promoting the profile of Ammolite and Ammonite on a domestic and global level has been the driving force behind her passion to lead Iniskim International.